Say Goodbye to Hair Lice Forever!
The Licetec is an innovative device that combines the functionality of combing and vacuuming to effectively get rid of head lice and its eggs. It is 100% chemical and allergen-free and is guaranteed to work on all types of hair!
Designed to Preven Re-infestation! 

The stainless-steel teeth have adjustable angles for combing. The disposable bag ensures no lice will fall during usage. It is easy to clean and can be used regularly!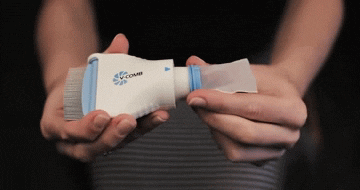 Features:
Fine-tooth Stainless Steel Comb: Not even the smallest eggs can slip past the thin comb and its smooth tips ensure an easy glide on your scalp!
Mini-Vaccum: Licetec sucks up all the combed lice and eggs into a convenient capture net. No risk of stragglers causing reinfection! 
Micro-Mesh Capture Bag: The disposable capture bag ensures air can pass and nothing else! Place the cap back and it's ready for disposal!
LED Light: The light makes the lice visible, allowing you to see your progress on eliminating them!
Package Contains: 
1 x Licetec V-Comb Lice Remover